McStreamy.com – We've added several videos and rearranged some of the other videos in our Video Playground at McStreamy.com, which is found under VIDEOGUIDE on the McStreamy website. Among the recent additions, we added one of the latest recorded live videos of Choir! Choir! Choir! [insert pic], singing Steven Tyler and Aerosmith's 1998 hit, "I Don't Want To Miss A Thing", written by Dianne Warren.  We also added a video featuring Haley Reinhart, recorded live with Jeff Goldblum [Haley and Jeff above pic] and the Mildred Snitzer Orchestra, plus a video of her latest single recording, "Don't Know How To Love You". Goldblum says Haley will sing two songs on his upcoming jazz album, scheduled for release in November, 2018.
Other recent additions to Video Playground include videos of the Tedeschi Trucks Band; Grace Vanderwaal, recorded live at Summerfest 2018; Ariana Grande, singing Aretha Franklin's popular version of "(You Make Me Feel Like A) Natural Woman", written by Carole King and Jerry Goffin. The Ariana Grande performance was recorded live on the Tonight Show, starring Jimmy Fallon, as a tribute to Aretha Franklin, following her recent death.
McStreamy's Video Playground features music, comedy and entertainment videos seen on the internet and shared here by the McStreamy.com staff for you to enjoy. – McStreamy NewsBriefs
See VIDEO SPECIALS for other Videos and information.
Looking for McStreamy's VIDEO PLAYGROUND? Go to VIDEO PLAYGROUND.
For additional Video Listings go to VIDEOGUIDE.
Recent Original McStreamy Stories
Other News Around The Internet

SiteGuide Gallery Has Quick Links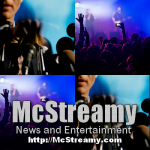 McSTREAMY SITEGUIDE shows you at a glance (with easy to understand illustrations) all of the many pages of things to see, listen to, read and view at our McStreamy.com website. It's a simple, straightforward way to get where you want to go, fast. Click Here or select SITE GUIDE from the Menu at the top of any page.

---
---