McStreamy.com – We've added several videos and rearranged some of the other videos in our Video Playground at McStreamy.com, which is found under VIDEOGUIDE on the McStreamy website. Among the recent additions, we added one of the latest recorded live videos of Choir! Choir! Choir! [insert pic], singing Steven Tyler and Aerosmith's 1998 hit, "I Don't Want To Miss A Thing", written by Dianne Warren.  We also added a video featuring Haley Reinhart, recorded live with Jeff Goldblum [Haley and Jeff above pic] and the Mildred Snitzer Orchestra, plus a video of her latest single recording, "Don't Know How To Love You". Goldblum says Haley will sing two songs on his upcoming jazz album, scheduled for release in November, 2018.
Other recent additions to Video Playground include videos of the Tedeschi Trucks Band; Grace Vanderwaal, recorded live at Summerfest 2018; Ariana Grande, singing Aretha Franklin's popular version of "(You Make Me Feel Like A) Natural Woman", written by Carole King and Jerry Goffin. The Ariana Grande performance was recorded live on the Tonight Show, starring Jimmy Fallon, as a tribute to Aretha Franklin, following her recent death.
McStreamy's Video Playground features music, comedy and entertainment videos seen on the internet and shared here by the McStreamy.com staff for you to enjoy. – McStreamy NewsBriefs
Recent Original McStreamy Stories
Chuck Berry Was and Is A Giant Influence On Rock and Roll

McStreamy.com – One of the true pioneers of rock and roll music, would have been 92 years old this month, had he not passed away after […]

Paul Allen Touched Technology, Sports, Science and The Arts

McStreamy.com – Paul Allen [pic], the billionaire co-founder of Microsoft, died October 15, 2018 at the age of 65. His cancer had returned. […]

Popular Singer Cliff Richard Has Been Moving It Since 1958

McStreamy.com – Worldwide recording star CLIFF RICHARD [pic] was born Harry Rodger Webb, October 14, 1940 in Lucknow, United Provinces, British […]
Other News Around The Internet

SiteGuide Gallery Has Quick Links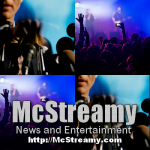 McSTREAMY SITEGUIDE shows you at a glance (with easy to understand illustrations) all of the many pages of things to see, listen to, read and view at our McStreamy.com website. It's a simple, straightforward way to get where you want to go, fast. Click Here or select SITE GUIDE from the Menu at the top of any page.

COMMENTS WELCOME: As is the case with any article or feature at McStreamy.com, we're always happy to hear your Comments. Only Registered McStreamy Users can enter Comments at YOUR VIEWS, or interact with other Comments. Be sure to Register or Log In using links in our Main Menu at the top of any page. Your comments for YOUR VIEWS, may be subject to review before appearing. If approved for publication, they will appear in the YOUR VIEWS public pages, accessible to all readers. If you wish to write to our staff privately, please use the CONTACT US form. CONTACT US will only be read by our staffers and appropriate action will be taken accordingly. – McSTREAMY.COM
---