McSTREAMY.COM (02/21/2015) – Now, you can tell us and everyone else just what you think about a lot of things on our New page that gives you the opportunity to Say It In Your Own Words. You can not only do that, but, you can also interact with other Registered McStreamy Users by commenting on what they are saying on the page, as well.
Tell the McStreamy.com staff, Visitors, Members and Users What You Think about anything you feel a need to get off your chest. Compliment someone. Promote your pet project. Tell us all how you feel. Share something. Comment on a McStreamy article. Make some suggestions to improve our website. Talk about what everyone else is talking about. Respond to what other Registered McStreamy Users wrote. Whatever. It's up to you.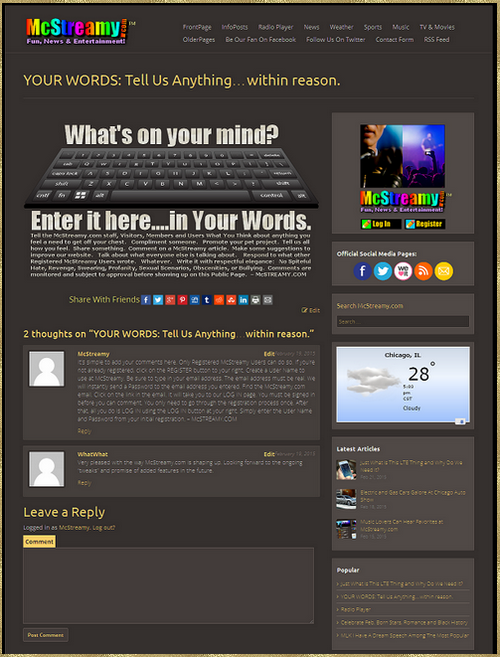 Write it all with respectful elegance: No Spiteful Hate, Revenge, Swearing, Profanity, Sexual Scenarios, Obscenities, or Bullying. All Comments are monitored and subject to approval before showing up on the In Your Words Public Page.
That's right, In Your Words is a Public Page, open for everyone to see. Not just Registered Users, but guests who drop in to read our featured articles and news briefs, sports shorts, movie, television, music summaries, weather details and other information, while, possibly listening to some cool music from the radio stations in our Radio Directory. So, keep that in mind when your fingers are dancing on your keyboard.
Even though it's Open to the Public for all to see, Only Registered McStreamy Users who are Logged In can enter comments. So, if you're not yet a Registered McStreamy Member, it's easy to become one. Find the REGISTER Button in the Main Menu at the top of any page. Click on it and go through the simple registration process. Then come back to our Your Words page to write about what's on your mind, respond to what someone else has written, or, whatever.
INSTRUCTIONS: It's simple to add your comments. However, remember, Only Registered McStreamy Users of any age, young, middle-aged, or older, can do so. We welcome everyone. If you're not already registered, click on the REGISTER button in the Main Menu at the top of any page. It will take you to our Registration Page. Create a User Name to use at McStreamy. Be sure to type in your email address.
The email address must be real, because, we will instantly send a Password to the email address you entered. Find the McStreamy.com email. Click on the link in the email. That action will verify that the email address is real. Clicking on the link in the email will also take you to our LOG IN page. You must be signed in before you can comment.
You only need to go through the registration process once. After that, all you do is LOG IN using the LOG IN button in the Main Menu at the top of any page. The Log In and Registration Buttons are both in the Main Menu on all pages of our website. When you get to our Log In page, simply enter the User Name and Password from your initial registration, come back to our Your Words page, or any other place on our website, and, you're good to go.
We're looking forward to have you experience the joy of telling it the way you think it is, but, please be kind, gentle and civil, while getting your point across.
To GO to Our Comment and Interaction Page we refer to as In Your Words, you can find it in one of our Menus under the Comments and Opinion category, or CLICK HERE.
---
---