GREATGOLD is the place to be for 24 hours of blissful listening everyday. This internet radio station plays Classic Hits from the 1950s, 60s, 70s, 80s, 90s and the best of the 2000s, 2010s and beyond. Sometimes you'll hear a song in the Rock category, or Pop, Blues, Motown, Disco, Soul, Country Crossover, Soft Rock, male and female singers, boy bands, girl bands, and once in awhile you may hear an outstanding independent or new artist with a Classic Hits Wannabee. Whatever you hear, you can be assured it is one of the best.
THE GREATGOLD CLASSIC HITS MIX consists of, generally, Top 40 hits from the past, and, occasionally, songs that should have been. We play the Best of More Than 60+ years of The Greatest Music from Life's Soundtrack. The finest of the last half of the 20th Century, mixed in with gems from the 21st Century. No matter which Genre the Songs first fell into, or, which type of radio station first played them, it's a tune we call GREATGOLD, and, part of the History of Rock and Roll.
THE GREATGOLD STREAM offers a healthy serving of thousands of delicious songs from the Soundtrack of Your Life. Only the finest deserve to survive to be among the list of Great Gold Hits, and, We Always Play The Greats at GreatGold.fm Internet Radio. It's all waiting for you 24/7 in a website player compatible with virtually every browser and computer device or smartphone operating system. Click on the GreatGoldHits image above to enjoy your Bliss Fix now. – McStreamy Music & Radio
Recent Original McStreamy Stories
Other News Around The Internet

SiteGuide Gallery Has Quick Links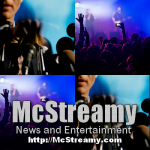 McSTREAMY SITEGUIDE shows you at a glance (with easy to understand illustrations) all of the many pages of things to see, listen to, read and view at our McStreamy.com website. It's a simple, straightforward way to get where you want to go, fast. Click Here or select SITE GUIDE from the Menu at the top of any page.