McStreamy.com – One of the true pioneers of rock and roll music, would have been 92 years old this month, had he not passed away after surviving 90 years of a life that created such memorable tunes as "Maybellene", "Rollover Beethoven", and "Johnny B Goode". Charles Edward Anderson Berry, professionally known as Chuck Berry [pic],  even wrote a tune called "Rock and Roll Music", as well as dozens of other tunes that became staples for rock and roll musicians after "Maybellene" was his first recorded hit that made it onto the top 5 in popularity, back in 1955.
Chuck Berry was born October, 18, 1926, and by 1953, his career, marked by popular songwriting ability, guitar prowess and a unique vocal style, rubbed off on countless musicians who admired his performances. They all wanted to be like the man who influenced the popular music that would became known as rock and roll. It is said, Berry took Rhythm and Blues and molded it into a form of music that rocked the world and made it possible for other giants of Rock to follow in his footsteps.
The Berry experience was not the only influence on future musicians, but, it is argued, without Chuck Berry, rock and roll would not be what it became, nor what it has developed into today. The large number of rock and roll songs, either penned by him or adapted by him into classics, include the likes of, "School Day (Ring! Ring! Goes the Bell)", "Sweet Little Sixteen",  "Run, Rudolph, Run", "Sweet Little Rock and Roller", "Back in the U.S.A.",  "Nadine (Is It You?)", "No Particular Place To Go", "My Ding-A-Ling", "Reelin' and Rockin'", "Shake, Rattle and Roll", and dozens of other songs.
The contribution to the world of rock and roll and enjoyment of, "the music with a beat, that's easy to dance to", by teenagers of every age, is immeasurable. Chuck Berry was active as a performer and recording artist during an amazing career, in which he was active from 1953 until the year he died in 2017. During that time, he recorded 45 singles, 20 studio albums, 11 live albums, 2 soundtrack albums, and his songs are in 31 compilation albums.
Chuck Berry's last album was recorded in 2017, the year he made it into Rock and Roll Heaven. That last album was called, simply, "Chuck". It included, "Big Boys", "Wonderful Woman" and "Lady B. Goode", the latter of which was a sequel to his 1958 track, a number two single, called "Johnny B. Goode".
Some of Chuck Berry's best songs and recorded performances are in the music library at http://GreatGold.fm Internet Radio. They can be heard in the Classic Rock, Pop Oldies and Classic Hits Wannabees in the player on the GreatGold website. To find GreatGold on popular internet radio directories and mobile phone apps, enter 'greatgold' in the search on directory sites and apps. You can find lists of Directories and Apps that include GreatGold on the front page of the GreatGold website. – McStreamy NewsBriefs
Recent Original McStreamy Stories
Other News Around The Internet

SiteGuide Gallery Has Quick Links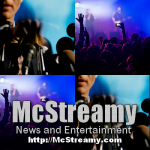 McSTREAMY SITEGUIDE shows you at a glance (with easy to understand illustrations) all of the many pages of things to see, listen to, read and view at our McStreamy.com website. It's a simple, straightforward way to get where you want to go, fast. Click Here or select SITE GUIDE from the Menu at the top of any page.