McStreamy.com – Comedian Kevin Nealon has a video podcast called "Hiking With Kevin", during which several former Saturday Night Live alumni and other notables huff and puff along side him while holding spontaneous discussions about whatever comes to their minds. One such discussion was with comedy writer, comedian and former Minnesota United States Senator Al Franken. They talk about the early days of Saturday Night Live and touched on Franken's career path that led to the Senate, best selling book authorship, and other topics that came up during their hike in the countryside.
As Franken puts it on his website, AlFranken.com: "I was in Los Angeles recently and my old pal Kevin Nealon suggested I take a hike. I took offense, told Kevin that he should take a hike, and stormed off – ending our thirty-three-year friendship. Fortunately, Dana Carvey called me later and explained Kevin was asking me to be his guest on his popular YouTube show, "Hiking with Kevin." The two of us took a delightful hike together at Will Rogers Park in the Pacific Palisades."
"In the show, I look kind of short, but that's because Kevin is freakishly tall," Franken warned.
Other personalities invited from time to time to take a Hike With Kevin have included Jeff Goldblum, Donny Osmond, Cheryl Hines, Conan O'Brien, Brad Paisley, Weird Al Yankovic, Jack Black, Michael Keaton, Mariel Hemingway, Martin Short, Owen Wilson, Rob Lowe, Ray Romano, Molly Shannon, Hilary Swank, Allison Janney, Simon Helberg, Dana Carvey, Marie Osmond, and Bob Saget, to name just a few.
Video Posted by Kevin Nealon.
Kevin Nealon's website: KevinNealon.com
Al Franken's website: AlFranken.com
See VIDEO SPECIALS for other Videos and information.
Looking for McStreamy's VIDEO PLAYGROUND? Go to VIDEO PLAYGROUND.
For more Video Listings at McStreamy go to VIDEOGUIDE.
Recent Original McStreamy Stories
Other News Around The Internet

SiteGuide Gallery Has Quick Links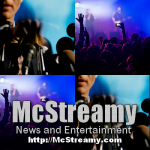 McSTREAMY SITEGUIDE shows you at a glance (with easy to understand illustrations) all of the many pages of things to see, listen to, read and view at our McStreamy.com website. It's a simple, straightforward way to get where you want to go, fast. Click Here or select SITE GUIDE from the Menu at the top of any page.

---
---