McStreamy.com – One of rock icon David Bowie's favorite bands of the 1970's was an early all-girl band called FANNY. The original members of Fanny were Jean Millington (bass guitar, vocals), June Millington (guitar, vocals), Nickey Barclay (keyboards, vocals), and Alice de Buhr: (drums, vocals).
During the course of their career during the 1970s, the group performed on several television programs, including The Sonny and Cher Show, American Bandstand, and Beat Club. This is an unedited video of a session on French TV from 1971, published on YouTube by FannyRocks.com, February 4, 2012.
This 10 minute video includes live versions of "Badge" from their first album, and an additional song.
Fanny opened for several important rock artists of the time in live concerts and recorded several albums on their own, including "Fanny" on Reprise Records (1970), "Charity Ball" on Reprise (1971), "Fanny Hill" on Reprise (1972), "Fanny Live" on Slick Records (1972), "Mother's Pride" on Reprise (1973), "Rock and Roll Survivors" on Casablanca Records (1974), "First Time In A Long Time" boxed set on Rhino Records (2002),  and "Fanny Walked The Earth.
Some of the best rock and roll music by Fanny is scheduled to be added soon to the Classic Rock and Pop Oldies audio music library at http://GreatGold.fm Internet Radio.
Author and screenwriter Jessica Hagedorn has been commissioned by Two River Theater in Red Bank, NJ to write Play Like A Girl: The Amazing Life And Times Of A Band Named Fanny, an original musical about the first all-female rock band to be signed to a major label.
FOR MORE ABOUT FANNY, see FannyRocks.com.
See VIDEO SPECIALS for other Videos and information.
Looking for McStreamy's VIDEO PLAYGROUND? Go to VIDEO PLAYGROUND.
For additional Video Listings go to VIDEOGUIDE.
Recent Original McStreamy Stories
Other News Around The Internet

SiteGuide Gallery Has Quick Links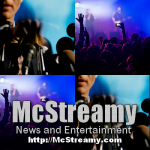 McSTREAMY SITEGUIDE shows you at a glance (with easy to understand illustrations) all of the many pages of things to see, listen to, read and view at our McStreamy.com website. It's a simple, straightforward way to get where you want to go, fast. Click Here or select SITE GUIDE from the Menu at the top of any page.

---
---