McSTREAMY.COM – Michelle Wolf (pic), 32, a comedy writer and comedian, made quite a stir as the final speaker at the White House Correspondents Association Dinner, Saturday, April 29, 2018.  It wasn't so much, being the final speaker that made her a stir-meister, it was more, what her comedy routine created afterward on social media, and television and print critiques, about the words Michelle Wolf spoke.
The event was part of a week long appreciation and celebration of the part the press plays in the Constitutional right to free speech in the United States of America. It included the annual awarding of numerous news scholarships to students aspiring to be reporters. Traditionally, a comedian who tells jokes about news people and politicians, gets the nod to entertain news professionals and significant others in attendance.
That was what Michelle Wolf did, from the minute she started performing her material from the podium in front of the WHCA dinner attendees. Much of it was entertaining and quite funny, if one listened for the comedy of it. However, in today's political atmosphere, some viewers of the same performance, missed the nuances of the words that were often humorous, yet told profound truths that, sometimes, over shadowed the unique jabs that many others thought to be so truthful that it almost wasn't funny enough to laugh.
Fortunately, there were enough people present, or who viewed the event, televised live on C-Span and news channels, who got the point, and were willing to share it with a few others, who were not so inclined. Late Night with Seth Meyers, The Daily Show with Trevor Noah, and other thought provoking comedy shows, like The Late Show with Steven Colbert, and others, are likely proud of Michelle Wolf and her courage to deliver the inventive, nuanced lines while many of the targets of her barbs, men and women, looked on from their tables.
Some in the audience in the room, and watching on the tube, appreciated the humor and the message, as others scratched their heads while rushing to smartphones to display their indignant misunderstanding in a social media post or two. The latter soon discovered from dissenting comments that their interpretation was not shared by most who witnessed Michelle Wolf's WHCA comedy roasting. Yes, it proved to be a stirring appearance, lasting well beyond the few minutes at the podium. – McStreamy NewsBriefs
Recent Original McStreamy Stories
GreatGold.fm Internet Radio Gives Blissful Listening 24/7

GREATGOLD is the place to be for 24 hours of blissful listening everyday. This internet radio station plays Classic Hits from the 1950s, 60s, 70s, […]

Def-L, Cure, Janet, Nicks, RadioHd, RoxyM, Zombies in TheHall.

McSTREAMY.COM – The Rock and Roll Hall of Fame has announced the 2019 inductees to be honored in a ceremony next year. They are, The Cure, Def […]

Trump's Former Fixer Gets Lesser Sentence Due To Mueller Help

McStreamy.com – Donald J. Trump's former attorney/fixer Michael Cohen [pic] today (12-12-2018) received a sentence in Federal court […]
Other News Around The Internet

SiteGuide Gallery Has Quick Links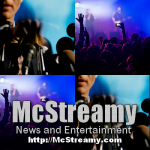 McSTREAMY SITEGUIDE shows you at a glance (with easy to understand illustrations) all of the many pages of things to see, listen to, read and view at our McStreamy.com website. It's a simple, straightforward way to get where you want to go, fast. Click Here or select SITE GUIDE from the Menu at the top of any page.

---