McSTREAMY.COM (07/11/2016) – Two leaders in their respective media operations, Twitter and CBS News have created a partnership to stream CBSN's live coverage from the Republican and Democratic National Conventions on Twitter. CBSN is the CBS News digital streaming news service. The CBS team will follow complete convention activities of both conventions from start to finish on the internet.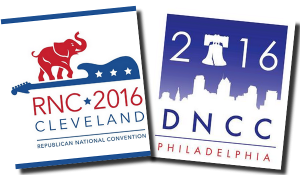 This is the big month of what could easily be contentious and extremely interesting conventions from both sides of the aisle. The Republican Party National Convention at Quicken Loans Arena in Cleveland, Ohio, kicks off July 18–21, 2016.
The following week, the 2016 Democratic Party National Convention gets down to business as the Dems take center stage in Philadelphia July 25-28. The Democrats event will be held at the Wells Fargo Center in Philadelphia, with some events at the Pennsylvania Convention Center
"Twitter is the fastest way to find out what's happening in politics and to have a discussion about it," said Anthony Noto, Twitter's chief financial officer.
"By bringing the live discussion of the Republican and Democratic national conventions together with CBSN's live video stream of the proceedings, we believe we're giving people around the world the best way to experience democracy in action", Noto said.
"CBS News will have the highest quality original reporting continuously throughout both conventions—we are very pleased that reporting will be so prominently featured on Twitter's live platform," said CBS News President David Rhodes.
CBSN, CBS News' 24/7 digital streaming news service, will present wall-to-wall convention coverage featuring the full breadth of the CBS News reporting team. The stream will be live on Twitter each day from gavel to gavel and will be enhanced with live, convention-related Tweets. CBSN anchors and correspondents Josh Elliott, Elaine Quijano, and Vladimir Duthiers will originate the CBSN coverage from the convention hall in both cities.
Twitter and CBS News previously partnered during the Network's broadcast of the Democratic presidential debate on Nov. 14, 2015 and the Republican presidential debate on Feb. 13, 2016. CBS coverage included real time metrics, curated Tweets, and live questions Tweeted from voters and asked of the candidates.
Twitter, Inc. is an iconic service and global platform for self-expression and live conversation. Twitter has always been the best place to see what's happening now. Whether it's breaking news, entertainment, sports, or everyday topics, only Twitter lets you connect with people anywhere in the world with live conversation. Anything that happens, you see it first on Twitter.
By developing a fundamentally new way for people to consume, create, distribute and discover content, Twitter enables any voice to echo around the world instantly and unfiltered. Twitter is available in more than 40 languages around the world. The service can be accessed at Twitter.com, on a variety of mobile devices and via SMS. For more information, visit about.twitter.com or follow @twitter.
CBSN is CBS News' 24/7 digital streaming news service featuring live, anchored coverage across platforms. CBSN launched on November 6, 2014 and has grown significantly since its debut. CBSN is currently available on CBSNews.com, connected TV devices including Amazon Fire TV, Android TV, Apple TV, Roku players and Roku TV models, Xbox One and Xbox 360, as well as the CBS News mobile apps for Android, iOS and Windows 8.1.
See Online News: http://www.cbsnews.com/live/
For more information, visit about.twitter.com or follow @twitter.
Follow CBSN on Twitter @CBSNews and on Facebook.

---
---