McStreamy.com – Paul Allen [pic], the billionaire co-founder of Microsoft, died October 15, 2018 at the age of 65. His cancer had returned. Paul Allen died from complications of non-Hodgkin's lymphoma on Monday afternoon. In addition to being part of the early days of Microsoft along with Bill Gates, Allen was owner of the Seattle Seahawks National Football League team, as well as an NBA team, the Portland Trail Blazers, and was part-owner of the Seattle Sounders, which joined Major League Soccer in 2009.
Allen and Gates co-founded the technology giant, Microsoft, which went on to affect nearly everyone in the world, thereafter. The world was never the same, and the company continues to be an influence in the computer and internet technology worlds. Allen was also considered an American business magnate, investor and philanthropist, from brain research to the arts. He and Bill Gates started Microsoft in 1979, after which Allen's involvement in that venture allowed him to veer off into other passions, to the benefit of many.
Paul Allen died two weeks after revealing the return of a cancer he had received treatment for years before. Paul Gardner Allen, 1953-2018. – McStreamy NewsBriefs
Recent Original McStreamy Stories
Other News Around The Internet

SiteGuide Gallery Has Quick Links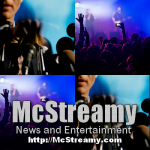 McSTREAMY SITEGUIDE shows you at a glance (with easy to understand illustrations) all of the many pages of things to see, listen to, read and view at our McStreamy.com website. It's a simple, straightforward way to get where you want to go, fast. Click Here or select SITE GUIDE from the Menu at the top of any page.

---
---