McStreamy.com – Sheryl Crow was born February 11, 1962 in Kennett, Missouri USA. For a rare video look into one of our favorite female music performers, told in her own words, see the video below, posted at YouTube by Rolling Stone magazine. Sheryl Crow revisits her early days on stage with Michael Jackson and makes a special surprise appearance at Nashville's famed Bluebird Cafe.
We also learn about how she got interested in music and steps that led up to the talented songwriter, singer and musician she has become. We see early video recordings and still photos of her as she goes from becoming a shy, young girl to becoming a stage-wise, live performer, as Sheryl describes her journey to stardom.
In the accompanying photo above, a youthful Sheryl Crow is shown playing an instrument in the high school band.
Many of Sheryl's hit career singles are in the audio music library at http://GreatGold.fm Internet Radio, and heard often at our sister website, which plays a Classic Rock, Pop Oldies and Classic Hit Wannabees Mix, 24/7. The Internet stream can be heard directly in most computer browsers at the website, or, search for 'greatgold' in many Internet Radio Apps and Directories. – McStreamy NewsBriefs
See VIDEO SPECIALS for other Videos and information.
Looking for McStreamy's VIDEO PLAYGROUND? Go to VIDEO PLAYGROUND.
For additional Video Listings go to VIDEOGUIDE.
Recent Original McStreamy Stories
Other News Around The Internet

SiteGuide Gallery Has Quick Links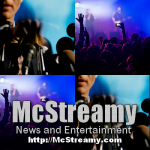 McSTREAMY SITEGUIDE shows you at a glance (with easy to understand illustrations) all of the many pages of things to see, listen to, read and view at our McStreamy.com website. It's a simple, straightforward way to get where you want to go, fast. Click Here or select SITE GUIDE from the Menu at the top of any page.

---
---