McStreamy.com – FAN VOTES are now being taken for music stars like Stevie Nicks [pic] in the quest to determine who will be inducted into the Rock and Roll Hall of Fame and Museum in a ceremony to take place next year.  There are 15 nominees: Stevie Nicks, Def Leppard, Devo, Janet Jackson, John Prine, Kraftwerk, LL Cool J, MC5, Radiohead, Rage Against The Machine, Roxy Music, Rufus featuring Chaka Khan, The Cure, The Zombies, and Todd Rundgren. Lovers of Rock and Roll can make their choices known by voting online. Follow this link to choose five of your favorites from the current crop of 15: FANVOTE at RockHall.com.
BY LOGGING IN TO VOTE with your real email address at the RockHall FanVote Page, you will be among the first to receive the announcement on 2019 Inductee winners, and be registered for the Rock Hall's e-newsletter and other promotional communications. You can visit rockhall.com/vote to cast a ballot daily. The top five artists, as selected by the public, will comprise a "fans' ballot" that will be tallied along with the other ballots to choose the 2019 inductees. Fans will need to login to vote. Voting is capped at one ballot per day.
Songs by nominees are included often in the Classic Rock, Pop Oldies and Classic Hits Wannabees mix at http://GreatGold.fm Internet Radio throughout November. They can be heard in the player on the GreatGold website, itself, or, search for 'greatgold' in online radio directories and popular mobile apps, such as TuneIn, and others listed in the Apps and Directories pages at the GreatGold.fm website.
AS OF NOVEMBER 17, 2018, at 2:35 AM, the Top 5 in the Fan Vote showed Def Leppard, Stevie Nicks, Todd Rudgren, The Zombies, and The Cure, were in the lead as favorites of Rock and Roll Fans.
More information for each of the current Rock and Roll Hall of Fame nominees can be found on the Rockhall website. – McStreamy NewsBriefs
Recent Original McStreamy Stories
Other News Around The Internet

SiteGuide Gallery Has Quick Links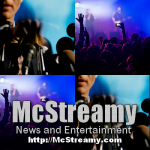 McSTREAMY SITEGUIDE shows you at a glance (with easy to understand illustrations) all of the many pages of things to see, listen to, read and view at our McStreamy.com website. It's a simple, straightforward way to get where you want to go, fast. Click Here or select SITE GUIDE from the Menu at the top of any page.

---
---