McStreamy.com – Worldwide recording star CLIFF RICHARD [pic] was born Harry Rodger Webb, October 14, 1940 in Lucknow, United Provinces, British India. The pop singer, musician, performer, actor and philanthropist has sold more than 250 million records worldwide during his lengthy, 60 year career, and was declared a Knight Bachelor in 1995. He has received numerous accolades and awards, and, ranks high among a list of major top-selling world wide artists, including the Beatles and Elvis Presley.
The first Cliff Richard recording to hit the charts was "Move It" in 1958. Other hits over the years have included his version of "Devil Woman", "We Don't Talk Anymore", "Dreamin'", "True Love Ways", written by Buddy Holly and Norman Petty, and other big hits in the United Kingdom, around the world and in the United States.
Richards has been more than just well known in the music field. He starred in six movies and appeared in several television programs. He also recorded and performed with other big names, such as, his duet with Olivia Newton-John. Their "Suddenly" is a staple for radio stations like GreatGold.fm Internet Radio, and others. Cliff Richards has recorded 45 record albums, 146 singles, 46 EP's and 36 video albums.
You can listen to his best hits in the Classic Rock, Pop Oldies, Newbies and Wannabees library mix at http://GreatGold.fm  Internet Radio. You can hear right in your computer or phone browser on the GreatGold.fm website using the recently added, newly designed player, or load GreatGold onto your WinAmp software with the WinAmp link under the new player on the same page. – McStreamy NewsBriefs
Recent Original McStreamy Stories
Other News Around The Internet

SiteGuide Gallery Has Quick Links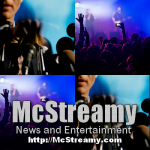 McSTREAMY SITEGUIDE shows you at a glance (with easy to understand illustrations) all of the many pages of things to see, listen to, read and view at our McStreamy.com website. It's a simple, straightforward way to get where you want to go, fast. Click Here or select SITE GUIDE from the Menu at the top of any page.

---
---