McStreamy.com – NBC's Peter Alexander [pic-center] is the new co-host of the Saturday version of the Weekend Today Show, joining Dylan Dreyer (pic-right) and Sheinelle Jones (pic-left). Alexander, 42, will also continue his duties as White House Correspondent and occasional anchor during MSNBC's cable news programming. Craig Melvin, the former co-anchor, was promoted in September to news anchor for Today. You may have seen Alexander's work elsewhere on NBC news programs from time to time, including NBC Nightly News, Today, Meet the Press, Dateline NBC, as well as MSNBC.
Peter Alexander has been with NBC News since 2004. During his employment at NBC, he has covered numerous international stories, including Iraq's historic election in 2005, the death of Osama bin Laden in Pakistan, the tsunami in Indonesia. Alexander has served as an NBC Sports host, and covered both the 2008 Beijing Olympic Games and the 2010 Winter Olympics. He has served as a White House Correspondent from 2012 to March 2014, covering the Presidency of Barack Obama, traveling across the world with the President. He returned to covering the White House in Washington, D.C. after the Oval Office became occupied by President Donald J. Trump. – McStreamy NewsBriefs
Recent Original McStreamy Stories
GreatGold.fm Internet Radio Gives Blissful Listening 24/7

GREATGOLD is the place to be for 24 hours of blissful listening everyday. This internet radio station plays Classic Hits from the 1950s, 60s, 70s, […]

Def-L, Cure, Janet, Nicks, RadioHd, RoxyM, Zombies in TheHall.

McSTREAMY.COM – The Rock and Roll Hall of Fame has announced the 2019 inductees to be honored in a ceremony next year. They are, The Cure, Def […]

Trump's Former Fixer Gets Lesser Sentence Due To Mueller Help

McStreamy.com – Donald J. Trump's former attorney/fixer Michael Cohen [pic] today (12-12-2018) received a sentence in Federal court […]
Other News Around The Internet

SiteGuide Gallery Has Quick Links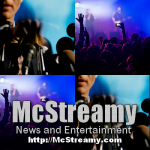 McSTREAMY SITEGUIDE shows you at a glance (with easy to understand illustrations) all of the many pages of things to see, listen to, read and view at our McStreamy.com website. It's a simple, straightforward way to get where you want to go, fast. Click Here or select SITE GUIDE from the Menu at the top of any page.

---