McSTREAMY.COM – KISS owned Rock and Brews restaurants are treating Transportation Security Administration workers during President Trump's partial government shutdown. As a result of the shutdown, 800,000 federal employees are not receiving paychecks, including TSA workers. About half of the federal government agency workers involved in the shutdown are being asked to work without pay during the duration of the shutdown, while the other half have been furloughed without pay. The  rock band's Gene Simmons and Paul Staley say the Rock & Brews Restaurants are offering the free meals to show appreciation for the work TSA employees perform.
TSA comprises more than 60,000 employees including more than 43,000 transportation security officers as well as transportation security inspectors, transportation security specialists, administrative and other security professionals. Transportation security officers screen around 2 million passengers each day at nearly 440 airports nationwide. Officers are trained to spot prohibited items, and on average, discover nine firearms per day at security checkpoints.
More than 1,200 transportation security inspectors ensure the compliance of standard operating procedures, conduct assessments, provide recommendations and manage non-compliance cases. These inspectors oversee more than 40,000 transportation operators in aviation, surface and cargo modes. Over 360 explosives specialists provide expertise in aviation and multimodal environments. Thousands of federal air marshals are deployed every day on domestic and international flights.
TSA workers, expected to work for nothing until Trump and Congress work on a solution to the current impasse over border wall demands, are responsible for keeping airplanes and passengers safe. Kiss Rock & Brews restaurants, operated in California, Missouri, Kansas, New Mexico, Florida, Hawaii, and Texas, will provide all TSA employees having valid TSA identification, special treats at any Rock & Brews location until the shutdown ends. The treat consists of the choice of a free pulled pork sandwich or strawberry fields salad. – McStreamy NewsBriefs
Recent Original McStreamy Stories
Other News Around The Internet

SiteGuide Gallery Has Quick Links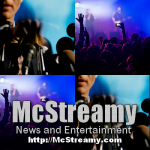 McSTREAMY SITEGUIDE shows you at a glance (with easy to understand illustrations) all of the many pages of things to see, listen to, read and view at our McStreamy.com website. It's a simple, straightforward way to get where you want to go, fast. Click Here or select SITE GUIDE from the Menu at the top of any page.

---
---