McStreamy.com – The United States Senate confirmed President Donald J. Trump's nomination of Brett Kavanaugh to fill a seat on the United States Supreme Court by a vote of 50 to 48, Saturday, October 6, 2018. The final vote took place following a contentious confirmation battle between Republicans and Democrats during several weeks of hearings. The final day of the process saw numerous opposition outbursts by the public in the Senate chambers and on the Capital grounds in front of the Congressional and Supreme Court buildings in Washington D.C..
Accusations of alleged sexual misbehavior and excessive drinking during high school and college years explored during the hearings in the final days were found to be disproved to the satisfaction of the Senators who voted in favor of approving Kavanaugh. Democrats complain that a supplemental FBI investigation into the claims was hampered by the White House in it's apparent instructions to the FBI that limited the scope of the additional investigation.
The Yes votes also disregarded the nominee's angry outburst toward, and veiled threats, against Democrats during the final day's opening comments by Kavanaugh. For the most part, Democrats thought the outburst alone should disqualify him, because a Supreme Court Justice should have an impartial outlook when hearing cases, not marred by partisan viewpoints. Republicans overlooked the outburst, siding with the nominee's indignant look at, and his interpretation of, the treatment he perceived by Democrats on the hearing committee. – McStreamy NewsBriefs
Recent Original McStreamy Stories
Other News Around The Internet

SiteGuide Gallery Has Quick Links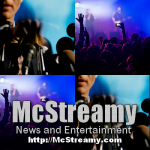 McSTREAMY SITEGUIDE shows you at a glance (with easy to understand illustrations) all of the many pages of things to see, listen to, read and view at our McStreamy.com website. It's a simple, straightforward way to get where you want to go, fast. Click Here or select SITE GUIDE from the Menu at the top of any page.