McStreamy.com –  With 100% of votes counted, former Vice President Joe Biden has won Democratic Party Presidential Preference Primaries in Michigan (38.6% to 29.9%), Missouri (60.1% to 34.6%), Mississippi (81.1 to 14.8%), and Idaho (48.9% to 42.5%). With 100% reporting in North Dakota, Senator Bernie Sanders has won the North Dakota Caucus (53.3% to 39.8%). At 11:00 AM CDT, Weds., March 11, 2020, the State of Washington was still too close to call with 67% reporting and remained the same at 4:00 PM CDT, Wednesday. Bernie Sanders says though he was disappointed in the Tuesday results, he is continuing his campaign.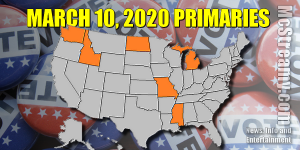 At this writing update (March 13, 2020), the Total Delegate count earned by the candidates shows Joe Biden with 881; Bernie Sanders, 725; Senator Elizabeth Warren,71; former NY Mayor Mike Bloomberg, 61; former Indiana Mayor Pete Buttigieg, 26; Minnesota Senator Amy Klobuchar, 7; Hawaii's 2nd Congressional District Representative Tulsi Gabbard, 2. At this writing, Bloomberg, Buttigieg, and Klobuchar dropped out of the race before the latest primaries, endorsing Biden on the way out. Warren has also ended her campaign, but, at this writing has not declared any endorsement.
In the above photo, former Vice President Joe Biden (photo-left) is seen with wife, Jill Biden, who was Second Lady of the United States while her husband Joe was serving as VP. Jill Biden has a bachelor's degree and a doctoral degree, and taught English and reading in high schools for thirteen years. She also taught adolescents with emotional disabilities at a psychiatric hospital. From 1993 to 2008, she was an English and writing instructor at Delaware Technical & Community College.
Since 2009, Jill Biden has been a professor of English, and is founder of the Biden Breast Health Initiative non-profit organization, co-founder of the Book Buddies program, co-founder of the Biden Foundation, has been active in Delaware Boots on the Ground, and is co-founder of Joining Forces with former First Lady Michelle Obama. She is stepmother to Joe's children and Joe and Jill have a daughter, Ashley, born in 1981. – McStreamy NewsBriefs
TO LEARN MORE see the stories found at our sister website, TheTopNews.Net, the home of News Happening Now, since 2005.
McStreamy Exclusives:
Current News, Sports, Info



Music, Movies, TV Shows

Billboard Heiress Lists $15 Million L.A. Starter House

Now that she's spooned out a whopping $24 million for a brand-new residential extravaganza in L.A.'s princely Pacific Palisades area, formerly New York-based Van Wagner billboard heiress Hillary Thomas has no need for her other Palisades […]
Commentary
Gary & Friends: Lawmaker MaryAnn Lippert's Budget Views

GARYVIDEOS – The second episode of a video talk show featuring host Gary W. Morgan, a retired broadcast radio news anchor-reporter, and various guests. This episode became available at the authentic McStreamy Video Channel on YouTube, June 12, […]
Our Video Playground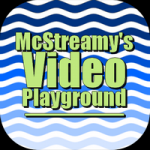 VIDEO PLAYGROUND features several pages of various music, comedy, entertainment and info videos our McStreamy staff has seen on the internet. The videos are shared by the McStreamy.com staff for you to enjoy. New videos are added when we see one you might also like. See VIDEO GUIDE.
Internet Radio Guide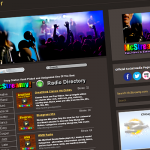 LOOKING FOR MUSIC RADIO? Our Directory has stations listed in 16 categories: Alternative, Country, Jazz, Dance, Reggae, Current Pop, Oldies, Classical, Blues, Suspense, Comedy, Latin, and more. There is bound to be more than one station that can successfully fill your need. See RADIO GUIDE.
SiteGuide Quick Links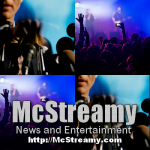 OUR SITEGUIDE shows you easy to understand illustrations with links to the many pages of things to see, listen to, read and view at our McStreamy.com website. It's a simple, straightforward way to get where you want to go, fast. See SITE GUIDE.
---
---