McStreamy.com – Corinne Bailey Rae and band stopped by KCPT, Kansas City, Missouri studios for a live interview and performance in advance of their show at the Uptown in the area. Jon Hart chatted with her about transformation and new beginnings as well as some of the opportunities she has experienced so far including the time she played for Paul McCartney at the White House. Leeds, United Kingdom artist Corinne Bailey Rae performs three songs in TV Studio A at KCPT in Kansas City, Missouri. The program was aired on The Bridge, 90.9 FM KTBG, the home of listener supported public music radio in Kansas City, Missouri. This video was originally published on YouTube by 90.9 The Bridge.
Singer-songwriter Corrine Bailey Rae was born February 26, 1979 in Leeds, West Yorkshire, England. To the date of this writing, she has recorded and released 3 studio CD albums and one live album, 13 music videos, and hit singles, including "Put Your Records On", "Like A Star", and "Closer". She has been honored with numerous Grammy nominations and other awards. Her debut album, "Corinne Bailey Rae", on EMI, has been certified Platinum by the Record Industry Association of America and Triple Platinum by the British Phonograpic Industry. "The Heart Speaks in Whispers" is her third studio album. The second album was titled "The Sea".
Compact Discs and LPs are available at CD Universe.
MP3s and CDs are available at Amazon.
See VIDEO SPECIALS for other Videos and information.
For More Video Content Options Go to VIDEOGUIDE.
Looking for McStreamy's VIDEO PLAYGROUND? Go to VIDEO PLAYGROUND.
Recent Original McStreamy Stories
Other News Around The Internet

SiteGuide Gallery Has Quick Links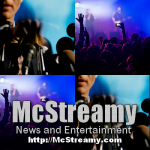 McSTREAMY SITEGUIDE shows you at a glance (with easy to understand illustrations) all of the many pages of things to see, listen to, read and view at our McStreamy.com website. It's a simple, straightforward way to get where you want to go, fast. Click Here or select SITE GUIDE from the Menu at the top of any page.

---
---