McSTREAMY.COM – The 41st President of the United States of America, George Herbert Walker Bush (R), died at age 94, today, November 30, 2018 in Kennebunkport, ME. He now joins his first lady, Barbara Bush, who preceded him in death, April 17, 2018. The couple was father and mother to U.S. President George W. Bush (R), who was, in turn, replaced in the democratic process by Barack H. Obama (D), who was succeeded by President Donald J. Trump (R).
George Herbert Walker Bush served as the 41st President of the United States from 1989 to 1993 after being the 43rd Vice President of the United States under President Ronald Reagan (R) from 1981 to 1989. George H.W. Bush was born June 12, 1924, in Milton, MA. He and Barbara were the parents of George W. Bush, Jeb Bush, Dorothy Bush Koch, Neil Bush, Marvin Bush, and Pauline Robinson Bush.
Our Partner Website Has More Info: To find other dependable news media reports about the death of former Pres. GEORGE H.W. BUSH go to http://uswebdaily.com/uswd/?s=George+Bush . When you want to learn What's Happening Now in the news, you can always turn to USWebDaily, the home of TheTopNews, for true information you can rely on. – McStreamy NewsBriefs
Recent Original McStreamy Stories
Other News Around The Internet

SiteGuide Gallery Has Quick Links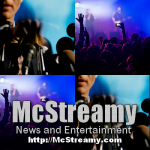 McSTREAMY SITEGUIDE shows you at a glance (with easy to understand illustrations) all of the many pages of things to see, listen to, read and view at our McStreamy.com website. It's a simple, straightforward way to get where you want to go, fast. Click Here or select SITE GUIDE from the Menu at the top of any page.