McStreamy.com – Comedian Bill Cosby, 81, left the courtroom in handcuffs, Tuesday, Sept. 25, 2018, after being sentenced for sexual assault. Cosby will serve three to 10 years in prison. The man who the world learned to love through his comedy performances on stage, film, record albums and television shows, like "I Spy" (1965 to 1968 on NBC-TV) and "The Bill Cosby Show" (1984 – 1992 on NBC), had allegedly, routinely, drugged and had sexual intercourse with dozens of women, individually, during his career. Most of the alleged encounters took place too long ago to legally be charged. However, the prosecution vowed to zero in on one of the more recent, alleged instances. That case resulted in today's sentencing.
Cosby was convicted in April, 2018 of drugging and sexually assaulting Andrea Constand at his home in 2004. Upon Cosby's sentencing today, Montgomery County, Pennsylvania, Judge Steven O'Neill told Cosby, "This is a serious crime." The judge pointed out, "It is time for justice." Cosby was also ordered to pay a fine of $25,000 plus the costs of prosecution as part of the sentence, and register as a sex offender. Cosby will be classified as a "sexually violent predator," which requires lifetime registration, lifetime mandatory sex offender counseling with a treatment provider and notification to the community that a "sexually violent predator" lives in the area in which he resides after serving his time in prison.
Cosby's attorneys are appealing the court decision. In the meantime, the man often referred to as "America's Dad" during his, long, lucrative run on "The Bill Cosby Show", was cuffed, led away from the courtroom, and behind bars to begin his sentence, moments after it was proclaimed by Judge Steven O'Neill. – McStreamy NewsBriefs
Recent Original McStreamy Stories
Other News Around The Internet

SiteGuide Gallery Has Quick Links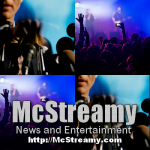 McSTREAMY SITEGUIDE shows you at a glance (with easy to understand illustrations) all of the many pages of things to see, listen to, read and view at our McStreamy.com website. It's a simple, straightforward way to get where you want to go, fast. Click Here or select SITE GUIDE from the Menu at the top of any page.