McSTREAMY.COM (11/09/2015) – If you are thinking about starting a family or wondering why it costs so much to raise one where you live, we can tell you. There are some statistics available that compare all fifty states according to how they rate in terms of median income, state parental leave polices, food costs, hoousing costs and child care costs. Hawaii and New York are the most expensive states to raise a family, while Tennessee and Utah are the cheapest, according to the ranking released by GOBankingRates.com.
"Raising a family can be expensive, regardless of where you live, but it can be especially challenging for families on a budget to make ends meet in certain states," said Cameron Huddleston, Life and Money Columnist at GOBankingRates.
"It's important that they recognize the high cost of their decision to stay in those locales," Huddleston continued.
Additional insights include: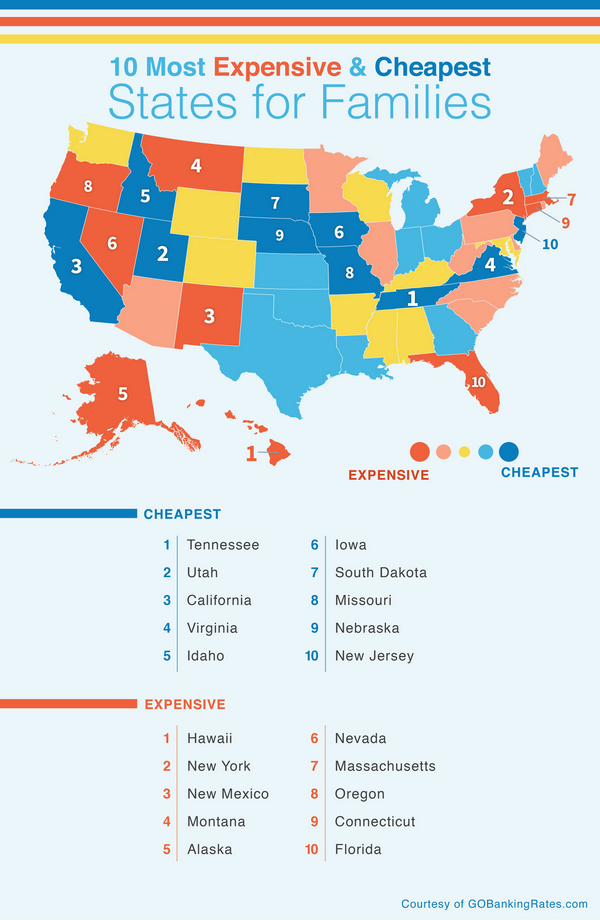 Parental Leave Programs: California outshines the rest of the nation with the most favorable parental leave policies, making it the No. 3 overall best state for families to raise kids on a budget. In California, parents are offered 40 hours of parental leave for kids' education-related activities, 6 weeks of paid family leave and 28 weeks of unpaid leave. Compare that with states like New York, Georgia, and Indiana, which offer none of the above benefits.
Child Care Costs: New York ranks as the second overall worst state for families, largely due to scoring dead last with the most expensive child care costs. The average annual cost of infant care in New York is $14,508 compared with Louisiana, the cheapest state for infant care, at $5,655.
Food and Homeownership Costs: When it comes to affordability for families, Tennessee comes out on top due to its low costs for the biggest budget items like food, home and child care expenses.
What about the rest of the country? We'll break it down into three categories for you: Best, Okay, and Not So Good.
The Best States, according to the results in the rating system, from the top, down: 1. Tennessee, 2. Utah, 3. California, 4. Virginia, 5. Idaho, 6. Iowa, 7. South Dakota, 8. Missouri, 9. Nebraska, 10. New Jersey, 11. Michigan, 12. Oklahoma, 13. Texas, 14. Indiana, 15. Vermont, 16. Louisiana, and, 17. Kansas.
The Okay States: 18. Ohio, 19. Georgia, 20. New Hampshire, 21. Mississippi, 22. Kentucky, 23. Arkansas, 24. Wyoming, 25. Alabama, 26.Colorado, 27. Washington, 28. North Dakota, 29. Maryland, 30. Wisconsin, 31. South Carolina, 32. West Virginia, 33. Pennsylvania, and, 34. Rhode Island.
The Not So Good Group, according to GoBankingRates: Number 35 on the overall list is Arizona, followed by, 36. Minnesota, 37. Illinois, 38. North Carolina, 39. Delaware, 40. Maine, 41. Florida, 42. Connecticut, 43. Oregon, 44. Massachusetts, 45. Nevada, 46. Alaska, 47. Montana, 48. New Mexico, 49. New York, and, 50. Hawaii.
GOBankingRates.com is a leading portal for personal finance and consumer banking information, offering visitors the latest on everything from finding a good interest rate to strategies for saving money, investing for retirement and getting a loan. Its editors are regularly featured on top-tier media outlets, including U.S. News & World Report, Forbes, Business Insider, Daily Finance, Huffington Post and more. It specializes in connecting consumers with the best financial institutions and banking products nationwide.

---
---