McStreamy.com – Here's a live video recording from a posting on YouTube we had to give you a chance to hear, just because it's a fun time from a very talented band of women called The Shake 'Em Up Jazz Band. It's a bit over 23 minutes, ending abruptly at 23:24, near the tail end of a rousing song that you won't want to miss.
To Buy Music by The Shake 'Em Up Jazz Band: Buy Music at ShakeEmUpJazzBand.
Posted by JazzAndJazz.com
See VIDEO SPECIALS for other Videos and information.
Looking for McStreamy's VIDEO PLAYGROUND? Go to VIDEO PLAYGROUND.
For our more Video Listings at McStreamy go to VIDEOGUIDE.
Recent Original McStreamy Stories
Other News Around The Internet

SiteGuide Gallery Has Quick Links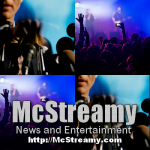 McSTREAMY SITEGUIDE shows you at a glance (with easy to understand illustrations) all of the many pages of things to see, listen to, read and view at our McStreamy.com website. It's a simple, straightforward way to get where you want to go, fast. Click Here or select SITE GUIDE from the Menu at the top of any page.

---
---